We Are Not Invisible: 5 African Women Respond to the Kony 2012 Campaign
The Kony 2012, a campaign launched recently by Invisible Children to raise awareness of the issues of child soldiers in Uganda in which they propose what they believe to be the ultimate solution — arrest Kony, the LRA rebel leader responsible for over 30,000 child abductions — was met with overnight "success" (i.e. over 50 million views on YouTube) and then heightened controversy; there are critiques that suggest the video promotes a white saviorist approach to humanitarianism, others that applaud the effort but challenge the film's inaccuracies, and many more that call for the inclusion of more African voices in Invisible Children's advocacy efforts.
Almost overnight, the web was flooded with so much commentary from western media on the erasure of African voices that it became challenging for me to even locate perspectives from fellow Africans; ironically, African voices weren't initially just being drowned out by the success of IC's viral campaign, but by western voices sharing their own take. Fortunately, African voices stepped up to the  plate, offering a wide range of perspectives; you can find a compilation of African responses to the campaign here, and a more general roundup of the Kony2012 issue here.
Nevertheless, I'm (as always) acutely aware of the amplification of male voices on the Kony 2012 campaign. Hence — and in the spirit of women's history month — I'd like to highlight African women's voices. The 5 women below aren't just adding to the conversation, but inspiring critical thinking about how we can be more conscious about the media we consume, more humble in our efforts to provide support to fellow global citizens, and mindful of the gift social media has given us. Africans now have the power to combat harmful narratives about Africa simply by telling our own.
So, here they are: 5 responses from African women to Kony 2012, and westerners seeking to support Africa, ethically and responsibly, now and in the future.
1) Solome Lemma
Involve African Leadership, Work with Organizations on the Ground
Soon after I heard about the Kony 2012 campaign (and watched the video), I read "You Do NOT Have My Vote" written by Solome Lemma under her Innovate Africa Tumblr.
Solome is also the Co-Founder of HornLight, a platform to share diverse, complex & nuanced narratives on the Horn of Africa. In this post, she stresses the need for African leadership:
…when your work and consequence affect a different group of people than your target audience, you must make it a priority to engage the voices of the affected population in a real and meaningful way, in places and spaces where programs are designed, strategies dissected, and decisions made.
Read the full post at innovateafrica.tumblr.com, and follow @InnovateAfrica on Twitter.
2) Rosebell Kagumire
Respect Africa's Agency, Don't Paint Us As Voiceless
While the cyberspace heated up with written critique upon written critique, Rosebell KAgumire, a Ugandan blogger and journalist that covered the LRA several years ago, decided to post a video summarizing her thoughts.
In this video, she passionately asserts the danger of a single story to dehumanize a people:
"How you tell the stories of Africans is much more important that what the story is; because if you are showing me as voiceless, as hopeless [then] you have no space telling my story. You shouldn't be telling my story if you don't believe that I also have the power to change what is going on."
Rosebell also stresses the importance of including African leadership, as well as engaging other political players such as the Ugandan government and other African countries before attempting to implement any solutions.
Visit Rosebell's blog here, and follow @RosebellK
3) Betty Oyella Bigombe
Historical Context is Necessary for Any Future Solutions
Although Betty isn't currently directly involved with peace efforts for the LRA, nor has she written a formal response to the Invisible Children campaign, she has been quoted and cited several times as a notable Ugandan peace-seeking activist the Kony2012 video erases by suggesting that there's been limited attention called to the issue. Not only was Betty previously tasked with convincing the Lord's Resistance Army (LRA) guerilla rebels –negotiating with Kony himself over 10 years ago — to lay down their arms, following the failure of military efforts to defeat the rebels, her shared experiences working from all sides of the conflict provide counter to IC's claim that there are just good guys and bad guys. From CSMonitor.com:
Bigombe has seen the LRA's brutality first-hand. In 1995, when she was a government minister, she was the first outsider on the scene of one of its bloodiest massacres. Rebels attacked a town and captured about 220 men, women, and children. The villagers were marched several miles to a riverbank and all methodically executed.

Yet sometimes Bigombe sees glimmers of humanity, too. Once, one LRA commander grew pensive during a conversation. He wondered how his fellow northerners would perceive him after all the terrible things the LRA has done. He asked plaintively, "Can I ever go home again?"
Read her full story here, watch a video of Betty speaking here, as well as this recent interview with her on Enough Project.
4) Dayo Olopade
Support the Mundane March Towards Progress, Not Just Internet Sensationalism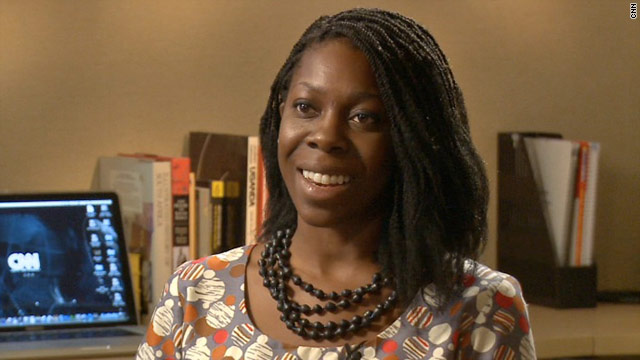 As a fellow Nigerian, I was thrilled to see Dayo mentioned in this list of Africans commenting on the Kony 2012 campaign. She recently wrote an opinion piece for the New York Times about the gap between what the the Kony 2012 campaign suggests as a solution and what Ugandan people dealing with the daily impact of this conflict actually need. Here is an excerpt (edited for brevity):
In Kampala last month, I met Hadijah Nankanja, the local director of Women of Kireka, a collective of women touched by Kony's marauding violence… Hadijah and I tried to come up with a way forward. Food production? Tailoring? Hair salons? And so forth. We didn't come up with a concrete plan, but opening a small restaurant seemed to be the front-running proposition. Our informal brainstorming session took about the same time as does watching "Kony 2012." I dare suggest that time spent marshaling such reserves of imagination, communion and capital to support jobs for displaced victims is far more helpful than this sort of advocacy. The kinds of problems Hadijah is trying to understand and solve are less sexy than the horror stories trailing behind Kony. But they are the nut worth cracking. The mundane march of progress in poor countries is what 'awareness' campaigns often miss. And when, as in this case, success is determined by action from outside the region, cries of a new imperialism should be taken seriously. Few international NGOs working in Africa define success properly — as putting themselves out of business. Invisible Children seems no better."
Dayo is a Nigerian-American journalist covering global politics and development policy. She is writing a book about innovation in Africa. You can follow her at @madayo on Twitter.
5) Semhar Araia
Use Media to Amplify African Voices, Not Just Your Own
Semhar is the founder of the Diaspora African Women's Network (DAWN), which "develops and supports talented women and girls of the African diaspora."
In her opinion piece at the Christian Science Monitor, "Learn to Respect Africans," Semhar refocuses the conversation on the impact of media on young people thirsty for information:
… young people's minds are open and hungry. They should be inspired by knowing Africa is empowered, saving itself, and working with partners to remove Kony. That is the real story. Invisible Children must be willing to take their followers on a journey through the Africa that Africans know. They must be willing to inspire – but also to  manage – their followers' expectations. They must be willing to use their media to amplify African voices, not simply their own.
It's no wonder she started the twitter hashtag, #WhatILoveAboutAfrica. In response to negative portrayals of the continent put forth by western media, and most recently, through the Kony 2012 campaign, Semhar commands that we do more than just critique visions of Africa, but create them ourselves. Follow @Semhar and @DawnInc on Twitter.
So, that's the word — African women have spoken. If you're interested in supporting the people of Northern Uganda, but would like an alternative to donating to Invisible Children, consider supporting organizations such as Hope North Uganda and The Women of Kireka. In fact, Invisible Children has recently shared a list of other organizations working on the this issue in Uganda.
Finally, if you're itching for a new video to share, share this one, make this one go viral. Viva Africa.